Updated:
December 2, 2008, 3:06 PM ET

Stories from the stands: NFC South

Quick clicks: NFC East | NFC North | NFC West | AFC East | AFC North | AFC South | AFC West


Atlanta Falcons
Keisha Burns
For Keisha Burns, the bird is the word.

While there's been little to cheer about for the Falcons the past few seasons, don't tell that to Burns, known down south as "The Bird Lady."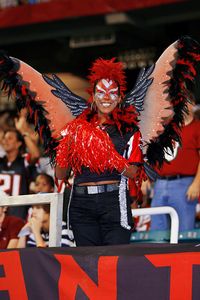 Photo by Jimmy Cribb/Atlanta FalconsFalcons fans recognize Keisha Burns as "The Bird Lady."

Perhaps as much a part of the Falcons' identity as any player -- especially with Michael Vick having flown the coop -- Burns, 34, takes it upon herself to keep the spirits of the fans in the Georgia Dome high. Yet, it comes at a price.

In getting in costume for each game, Burns, a hairdresser who lives in Decatur, Ga., has to purchase and then prepare her regalia down to the most intricate detail.

"I have to special order my wings," she said, "and the outfits are custom designed."

As Burns sees it, it's a small price to pay, and she's willing to help the team in any way she can.

"Last season was very tough for me, with Michael and then the coach quitting," she explained.

"This year we should do a little better. We'll come together and be in tune with one another."

You know, birds of a feather tend to flock together.

— Stuart Levine

Carolina Panthers
Dan Ortel

It's easy to spot Dan Ortel amid the pregame merriment of Charlotte's Bank of America Stadium.

The 45-year-old technical-account manager for Microsoft can be found tailgating alongside a bus tricked out in Panthers colors, replete with team logos.
Each season, the Waxhaw, N.C., resident volunteers to host veterans at one of his tailgate parties as part of the team's Operation Welcome Home.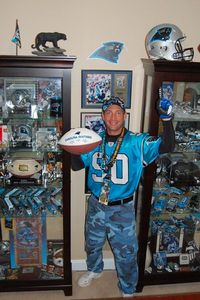 Want to tailgate in Charlotte? Dan Ortel can teach you a thing or two.

Ortel's gatherings are so highly regarded that Panthers owner and founder Jerry Richardson has even attended.

For big games, Ortel brings in a rock band. Sometimes, however, it's Ortel himself who receives the Mick Jagger treatment.

When Ortel and his friends couldn't get a direct flight to Houston for Super Bowl XXXVIII in 2004, they instead flew into Lafayette, La., which just happens to be the hometown of Jake Delhomme.

"We went to Mulates' Cajun Restaurant -- Jake's favorite place in Lafayette -- wearing Panther jerseys," Ortel said. "They treated us like rock stars."

Just like home.

Oh, and as much as he enjoyed soaking in the ambience of a Super Bowl quarterback's old stomping grounds on the eve of the big game, he definitely had to mosey along soon enough. He and his buddies rented a car and drove the final 200-some miles to Reliant Stadium.

The story didn't quite have the happy ending Ortel was hoping for when the Panthers lost to the Pats on a late field goal.

"It was a heartbreaker, to say the least," Ortel said.

— Doug Ward

New Orleans Saints
Bill Stieffel

It's all very simple for Saints stalwart Bill Stieffel of Slidell, La.

"That's our team," he said. "I live in New Orleans. They play in New Orleans. We got to support them."
Now 71, the former maintenance worker of 30 years at Charity Hospital in New Orleans is semiretired and a greeter at Wal-Mart.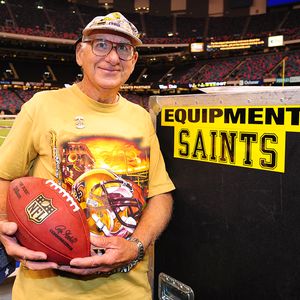 Photo by Michael C. Hebert/New Orleans SaintsSaints fan Bill Stieffel is a Superdome mainstay.

He has seen it all with the Saints -- really -- being a season-ticket holder since the team's inception in 1967.

He proudly wears his Who Dat? hat around the Superdome, the phrase being a part of team lore.

Walk by him on any given Sunday before a Saints game and ask Stieffel "Who dat gonna win?" and he'll emphatically reply, "The Saints are gonna win."

Most remarkably, Stieffel has missed only three home games, including preseason fixtures and the playoffs, in his four decades as Saints follower. This includes a run of 24 years when he didn't miss a single tilt.

And the reason for Stieffel's devotion is remarkably straightforward.

"I holler like everyone else, I scream like everyone else," he said. "We want to see our Saints win."

Stieffel said his wife of 21 years, Jo-Ann, though unable to attend games herself due to health issues, roots right along with him from home.

— Kristian Dyer

Tampa Bay Buccaneers
Keith Kunzig

For Buccaneers superfan Keith Kunzig, rooting for his team is not a spectator sport, it's "a participating sport."

"When we lose, I'm down in the dumps," said Kunzig, more familiar to those at Raymond James Stadium as the spectacle that is his intimidating game face, "Big Nasty." "It actually changes my moods."
"When the Bucs win," he said, "it's like a part of me won."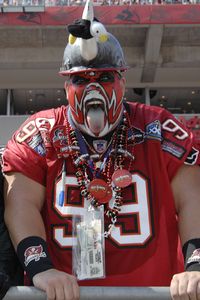 Photo courtesy Tampa Bay BuccaneersHe may look big and nasty, but Keith Kunzig has a gentle side.

Kunzig, 41, a financial adviser from Largo, Fla., has been rooting for the Pewter Pirates since the team's inception in 1976.

He's a can't-miss at games. You know the guy: hard hat with a rhino horn, usually skewering an icon of the opposing team; Buccaneer red face paint, with zigzag patterns of a white trimmed in black across his cheeks that connect at the bridge of his nose; blackened eyes and lips; and a tongue that's seemingly always out.

"I'm like a big, giant cheerleader," Kunzig said. "The main thing is getting the crowd up on third down."

Despite his outrageous appearance, you won't hear any profanity from Big Nasty, who claims he harbors no ill well toward those rooting for the other team.

In fact, Big Nasty has a gentle side. He's been featured at auctions where families can buy tickets to sit with him and share time sporting the rhino horn.

One such event fetched $4,300 for a children's charity, he said, and he's as pleased with that outcome as he is with a Bucs win.

— Rich Martin

RETURN TO THE FRONT PAGE OF MOST COLORFUL F

— Doug Ward