In the beginning...
It would be fun to say that the PantherFanz was organized the day after the NFL announced the Carolina Panthers as the 30th franchise in the National Football League in 1993. But that would be untrue. Now all of the members of the Pantherfanz have been diehard fans since that momentous day, but it took a few years for things to develop and morph into their current form as we know it today. When the team opened up the regular season in 1996 at then Ericsson Stadium, nearly all of the current casts of members were present in some parking lot around the stadium. For many it was a new experience, for some it was a continuation of traditions from other football cities. Most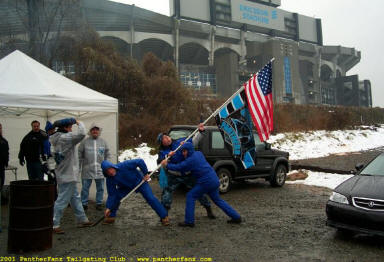 people brought some food and/or beer with them. Others pulled out the propane grills from their old camping set and attempted to make some decent parking lot cuisine. It was tailgating in its rawest form. As time passed during the first year in Charlotte, NC in 1996 the home team Carolina Panthers ,continued to win home game after home game to the surprise of many NFL fans around the country. Eventually, the Panthers went a perfect 8-0 at home in only its second year in the league. The team's self-confidence grew and so did the confidence and creativity of those in the parking lot! As fan enthusiasm grew so did the size and complexity of the tailgate in the lot. Football brought people together in the parking lot like the way no other sport could. Like my good friend Joe Cahn (the first and only Commissioner of Tailgating) once said: "It's the last great American neighborhood - the tailgating neighborhood. Where no one locks their doors, everyone is happy to see you and all are together sharing fun, food and football!"
The Epiphany...
You see our tailgating group was having such a great little time that we started taking a lot of pictures of everyone in action. Digital pictures no less... quite an achievement in 1996 when no one really knew what a digital camera was! There was only one problem though… how do you share those awesome and somewhat ludicrous and somewhat historical photographs to those that wanted to savior the memories? Well a few of us actually were on the cable modem beta back in the day for Road Runner high speed internet access. As part of our unfettered internet access we created an internet share to post our photos and share information about the next big Tailgate! It was a great success, but our little internet site was soon overwhelmed... a victim of our own success! Two good friends Marc 'JoKer' Stanton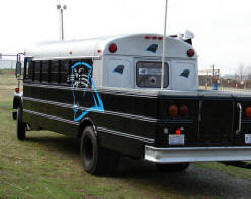 and Dan '12thMan' Ortel were talking philosophically over a cold brew one day in the Joker's driveway when we asked ourselves…. Heh! Let's get our own domain name and control our own destiny... let's make it official – so in 1999 the PantherFanz.net website was born. The new website provided a fertile breeding ground to post our pictures, thoughts, and adventures. It also was the impetus to get a little more radical and step up the fun! Soon we had our first EZ-up, pop-up tent, flags, team banners, jello-shooters in syringes, tailgate grills, a smoker trailer, WWII air raid siren and in 2002 even a converted Thomasville shoolbus with blue stadium seating from the old Eagles Veterans stadium – a prized possession captured shortly before the Carolina Panthers won the NFC title game over the Philadelphia Eagles on January 18th, 2004. The Panthers went to Superbowl XXXVIII that year to eventaully play the New England Patriots, only to lose by a last second field goal... but that is another story....
Over the years as people discovered the Pantherfanz website from around the world the legend of the PantherFanz tailgate grew. On September 8th, 2002 the PantherFanz hosted over 250 Baltimore Ravens fans and it was then that Ravens Nest No.1 President Doug Phillips asked us how many chapters we have? Wow! What a great idea! So in 2002 PantherFanz Den #1 was officially established in Charlotte, North Carolina. In 2004 PantherFanz Den #2 was honorably awarded to our first Canadian chapter based on the dedication and loyalty of Peter and Rob. The crazy Canucks migrate south like Canadian geese every year for their yearly golf outing and to attend a home away from home game as well as a PantheFanz Tailgate. Today the PantherFanz host people from around the world, our armed forces though Operation Welcome Home,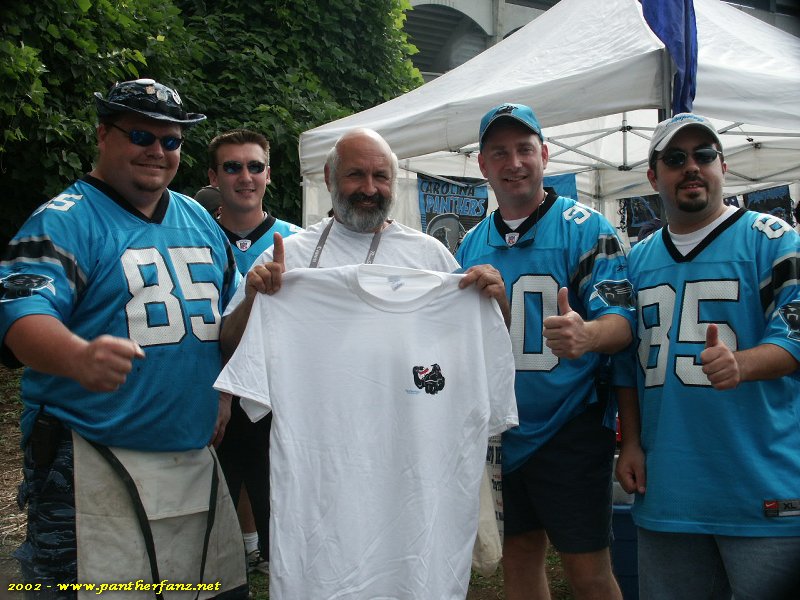 and from opposing teams around the country. We have made great friends from other cities like Tampa's BucFanz, and Atlanta's Fanbulance I wish my good friend and teammate the JoKer was here today to see the fruition of our labor of love, but his spirit lives with us every day and his last wish would have been to carry on the tailgate traditions which we will do in his honor. You see… well the parking lot is the last great American neighborhood; it is also where diversity flourishes where ideas and thoughts are cherished - where friends are made regardless of beliefs or allegiances. Where everyone is happy to see you and all are together sharing fun, food, football, and the occasional beverage of choice. Make no mistake!- We all love to see our team win and win big, but... Tailgating is really bigger than the game itself. Because at the end of the day… whether your team wins or loses… all we really have are each other!!!
GO PANTHERS!
~ Dano
Head Coach
PantherFanz.net
The Home of Carolina Panthers Tailgating