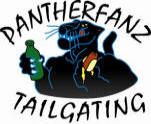 Pantherfanz FAQ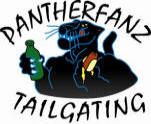 Q: Where is your tailgate party located?
A: We are located off of 601 South Cedar St across the walkway from the Panthers practice field. Click on the Locate Us button to get a detailed map and directions to our tailgate lot.
Q: Is there a place for us to park at the Pantherfanz lot?
A: At this time we have sold out all the spaces for the this season. However please contact Pecan Parking at 704-333-7275 and ask them if you can park close to the Pantherfanz at lot B-3 and they will try and set you up. Parking spaces within 2 blocks of our spot range from $15 to $40 per car. You can also visit Park Charlotte here for additional details and availability.
Q: What time do you start tailgating?
A: For some of us, if the sun has risen before we get out to the lot than we are late. But NFL tradition is 4 hours prior to kickoff. Go to the tailgate schedule page here for more information per game.
Q: Can anyone stop by and crash the party?
A: We always welcome any football fans, Panthers or otherwise, to come over and say hello. If you want to bring in your grill and a cooler and setup camp around us, that is ok as well. The more the merrier we always say
Q: Nice school bus, can I take a peek inside?
A: The first thing anyone notices on the lot is the big black party bus. There is something to keep in mind about this bus. While it is part of the scenery, it is a privately owned vehicle. Most people are flattered if you walk up to them and ask to look at their car. However it is quite another matter if you just climb into someone else's car with your family and a bucket of Kentucky Fried Chicken and pop in Eric Clapton's greatest hits. Think of the bus as more of a living museum to our tailgating experience. Everyone is welcome to take a little walk through and check things out, ask questions and whatever. However if you plan to setup shop and sit on the bus for the duration of the party do not be shocked when James asks for your credit card to fill up the tank.
Q: Do you provide food for everyone?
A: As a general rule we do not feed the world, we feed ourselves. Our group is a collective of fans and not a money making enterprise, so we cannot provide general concessions. However if you contact us at info@pantherfanz.net and let us know you are coming we will be happy to plan for you if possible. If you are interested in joining the club and becoming part of our collective group you can start by signing up for the mailing list. Also join the Pantherfanz Forum to find out more.
Q: What about beer, wine or spirits?
A: We do not provide any of that stuff, but feel free to bring your own ample supply. Remember in North Carolina you can not buy beer before noon on Sunday. So plan ahead and get everything you need by Saturday night. We all do. Just remember to drink responsibly and have a designated driver if needed!
Q: If I bring my own food, can you cook it for me or provide some grill space so I can cook it?
A: We typically plan out what we are going to do well before a game and bring only what we need to each game.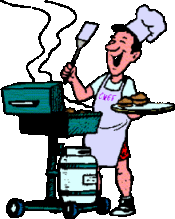 So if you just walk about and ask me to cook up 4 burgers do not be surprised if the answer is no. However if you go to the Pantherfanz Forum and RSVP for an upcoming game with what you want to do we can probably help you out there.
Q: Where do I sit or put the stuff I bring?
Mother nature has provided a firm plot of land to sit down on and lay out your stuff. As we only have room to bring our own tables and chairs, you will need to pack those in yourself if you want to make sure and have a place to rest.
Q: If I bring my own stuff, will you store it for me?
A: The official answer if no. I have quite a few items in my garage that have been left in my car after a tailgate party and we do not have a lost and found policy right now. However we will try and help you out as best we can to place it in an out of the way spot. Remember, we are NOT responsible for any lost items. Ours or yours, so just keep that in mind when bring the 4 chairs and 72 quart cooler from 5 blocks away!
Q: Can we bring the kids?
A: Yes indeed, we are all family people. However just a few notes. There are adults drinking around the lot, so if that offends you or DSS has you under surveillance stay away. Also keep in mind that there are a lot of very hot grills being utilized during the tailgate party. So keep on eye on the young ones.
Q: Where do I go when nature calls?
A: Well we used to have woods, but Pea-Dad and James took care of that to get us more tailgating space. Pecan Parking 2 outhouses setup to the right of the B-2 entrance and another one in the A-1 lot next to the Panthers practice field.
Q: I have a question that is not listed here
A: Go to the Pantherfanz Forum to ask all remaining questions.